Description
Interactive meeting display
Maximise engagement and inspire collaboration with an interactive Philips C-Line display. These Android powered displays are made to withstand heavy daily usage, and feature up to 10 touchpoints, edge-to-edge glass and flush design.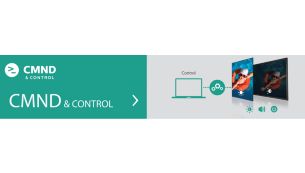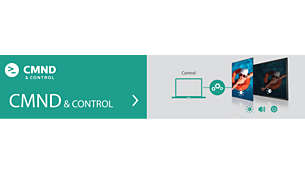 Operate, monitor and maintain with CMND & Control
Run your display network over a local (LAN) connection. CMND & Control allows you to perform vital functions like controlling inputs and monitoring display status. Whether you're in charge of one screen or 100.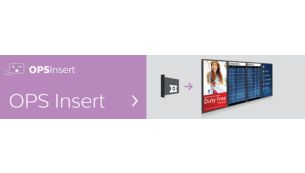 OPS slot allows for PC embedding without cabling
Integrate a full-power PC or Android-powered CRD50 module directly into your Philips Professional Display. The OPS slot contains all the connections you need to run your slot-in solution, including a power supply.
Wireless screen sharing & advanced collaboration
Display four feeds on the one screen. Wireless screen sharing allows you to connect multiple devices at the same time for quick content switching when you need it. Use your existing Wi-Fi network to instantly and securely connect devices, or use our optional HDMI interact dongles to cast directly to the screen without needing to connect to your secured/protected network.
HID Capacitive Touch with USB Plug & Play
Capacitive Touch gives you the cutting edge appearance of edge to edge glass with a bezel width of just 1.5 mm! Create a memorable interactive experience with up to 10 touchpoints at the same time. Perfect for collaborative and competitive applications, this display connects your audience with any content - making it ideal for education, public venues, corporate, hospitality, and retail settings.
Whiteboard mode built-in
Inspire agile collaboration with whiteboard mode. Simply activate this feature to turn your display into a blank canvas that can be drawn on by multiple users by hand or with dedicated display markers. Everything on screen can then be captured for easy printing or file sharing.
Fast and easy video conferencing
Ready to use video conferencing software makes one-to-one or group video calls easier than ever. Simply use your own camera or add the optional Logitech Meetup bundle for an all-in-one ConferenceCam solution.
Crestron Connected certified
Integrate this Philips Professional Display to your Crestron network for full remote control via your laptop, desktop or mobile device. Switch the display on and off, schedule content, manage settings, and easily connect external devices. Crestron Connected® provides a fast, reliable and secure enterprise level solution for for system control.
Android SoC processor. Native and web apps
Control your display via an Internet connection. Android-powered Philips Professional Displays are optimized for native Android apps, and you can install web apps directly to the display too. A new Android OS ensures the software is kept secure and remain to the latest specification for longer.
Payment & Security
Your payment information is processed securely, and we do not store credit card details or access your credit card information.