Description
Complete LED video wall solution
Affordable alternative for older technologies
Available in 108", 136", 163" diagonals
Full HD resolution
Includes all components
ADA-Compliant with install depth of <4"
Starting as low as $43,570.00 (MSRP US)
Easy, Off-the-Shelf LED Video Walls
Planar® MGP Complete™ Video Wall solutions deliver organizations a complete and packaged LED solution starting at $40,000 (MSRP US), about the same as a legacy LCD video wall. Simply select the Full HD resolution video wall size that best suits the environment and application, and receive the complete package of LED display cabinets, video controller, cables, spare modules and wall mounts, all included.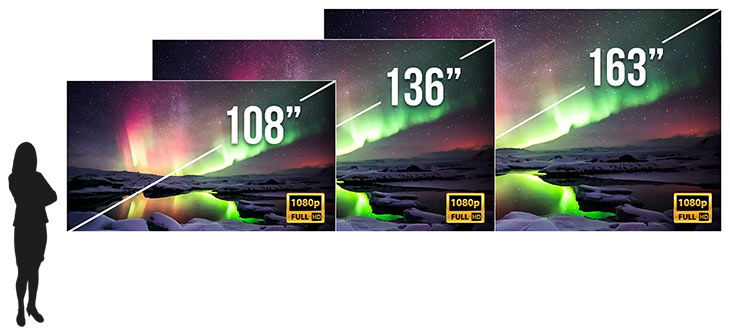 Just the Right Size
The Planar MGP Complete Video Wall optimizes efficiency with three pre-packaged solutions in 108", 136" and 163" diagonal sizes. These popular sizes and Full HD resolution make it an excellent fit for most corporate conference rooms, indoor meeting spaces and lobbies, and ensure there's a model for any application with comfortable viewing distances as close as 7' (2.1m).
Of course, if none of those video wall sizes is quite right, custom sizes and resolutions of Planar® MGP Series are also available.
Affordably Modern
Historically, fine pixel pitch LED video walls have been somewhat price prohibitive for more budget-conscious organizations in industries such as house of worship, education and medium-sized business. Now, with Full HD resolution pre-packaged models with costs similar to LCD video walls, Planar MGP Complete is a practical, modern upgrade from older tiled LCD video walls and front projection.
Planar MGP Complete LED video walls offer higher brightness, better color saturation and more desirable viewing angles than LCD or projection technologies. They also remove glare and shadow challenges, are easier to service and have a longer lifespan.
One Powerful Package
The Planar MGP Complete Video Wall includes a video controller, signal and power cables and wall mounts; everything needed for fast deployment and time to use. Spare modules also ensure the video wall keeps running with minimal downtime, should unanticipated issues arise.
Front Service Convenience
Planar MGP Complete Video Walls feature front-side installation and serviceability for easier access and installation versatility. As less physical space is required behind the video wall display, it is a great option for a wider variety of application environments.
With front-access and install depth of less than four inches the video wall displays also accommodate compliance with the Americans with Disabilities Act (ADA) Standards for Accessible Design. Organizations can place the video wall against the room wall, minimizing footprint and maximizing floor space.
More about Planar MGP Series.
Payment & Security
Your payment information is processed securely, and we do not store credit card details or access your credit card information.