Description
Available in 0.9, 1.2, 1.5, 1.8 and 2.5mm pixel pitches
Stackable design with zero cabinet-to-cabinet cabling
Lightweight 27" cabinet with slim cabinet profile under 3-inches
Front installation and serviceability
16:9 aspect ratio and outstanding image quality for Full HD and 4K resolutions
Stackable Front Access LED Video Walls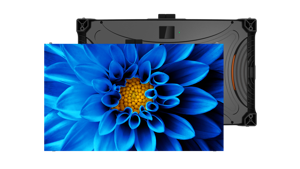 The Planar® TVF Series is a family of fine pitch LED video wall displays available in 0.9, 1.2, 1.5, 1.8 and 2.5 millimeter pixel pitches. Giving a new meaning to multi-functionality and quick installation, the Planar TVF Series offers front serviceability and a creative stackable design that eliminates cabinet-to-cabinet cabling and reduces the complexity of installation and vertical alignment.
Reduced Space Consumption with Front Serviceability
Planar TVF Series 27" cabinets feature front installation and serviceability. With a profile of less than three inches, the overall video wall footprint and servicing space needed is dramatically reduced, compared to typical space requirements of other LED video wall solutions. Additionally, the Planar TVF Series is easier to fit in more spaces than other LED video wall solutions.
Stackable Design with Zero Cabinet-to-Cabinet Cabling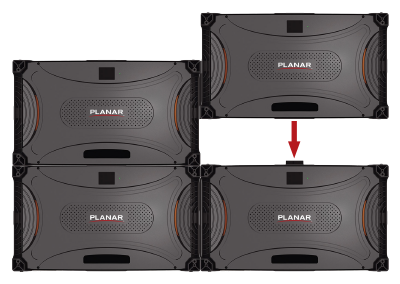 Building seamless LED video walls is easier with the Planar TVF Series' stackable, cableless design. The Planar TVF Series has zero cabinet-to-cabinet cabling, eliminating the need for extra space around the video wall and cabling clutter often found with other LED video wall solutions.
Like building blocks, Planar TVF Series video walls are assembled with a single-step process to connect embedded power and signal connectors from cabinet to cabinet by stacking vertically. Helping with vertical alignment, connection points and two alignment pins located on each cabinet assist in positioning cabinets together to reduction installation time.
16:9 Aspect Ratio for Popular Resolutions
The Planar TVF Series features a 16:9 aspect ratio that allows every pixel pitch to exactly achieve popular resolutions including Full HD, 4K and 8K, and can also be configured to meet the widest range of application requirements.
Controller Options
Planar TVF Series is available with several video control options including the Planar® WallDirector™ Video Controller (VC), a compact and scalable video processor designed to drive the video wall using the web-based Planar® WallDirector™ Software. The application simplifies video wall set-up, configuration, operation and monitoring. Planar WallDirector VC is a 1U rack mount device that captures multiple 4K inputs and drives the video wall at native resolution while providing signal extension over CAT or fiber connections. It also scales modularly to support larger video walls. Multiple video controllers can be stacked, but act as one, for more video inputs.
Added Protection
Planar® ERO-LED™ is a proprietary protective coating applied exclusively to best-in-class Planar® LED display products to deliver added protection and durability in high-traffic and interactive environments, at a reasonable cost.
Enable Interactivity
When touch capabilities are desired, Planar TVF Series video wall displays can be optimized for interactivity with a custom touch system and Planar ERO-LED. Touch displays are often limited to 16:9 dimensions, but the custom touch solution opens the door to a wider variety of touch video wall sizes and shapes. The custom solution offers 32-point touch and the protection of Planar ERO-LED.

Planar TVF Complete: Off-the-Shelf Video Wall Displays
If creating a video wall seems like too much, consider a pre-packaged Planar® TVF Complete™ Video Wall display. It reduces the complexity, cost, and time of designing and installing a video wall because we've packaged everything in one complete solution. Simply select the Full HD, Double Full HD or 4K LED video wall size that best suits the environment and application, and receive the ideal LED display cabinets, video controller, cables, spare modules, wall mounts, trim and remote control, all included. Available in 109", 137", 164" and 219" diagonal sizes with a 16:9 aspect ratio, or 198" wide-view with a 32:9 aspect ratio.
Planar EverCare Lifetime Warranty
Planar TVF Series video wall displays come with the Planar® EverCare™ Lifetime Limited Warranty, which means everything from the sub-pixels to the Controller is covered for as long as the video wall is used in a fixed location. 
CAD DRAWINGS
MODEL DRAWINGS
Payment & Security
Your payment information is processed securely, and we do not store credit card details or access your credit card information.